Croatia sought to turn its back on years of political sleaze and scandal by
inflicting a humiliating defeat on the rightwing party that has run the
country for almost all of its two decades of independence.

In a general election that decided which government will take the former
Yugoslav country into the EU in 18 months, Croats handed power to a
centre-left coalition of four parties led by Zoran Milanovic, the social
democrats' leader. Early projections on Croatian TV on Sunday gave the
centre-left coalition 83 seats in the 151-seat parliament, against 40 for
the governing HDZ or Croatian Democratic Union party of the prime
minister, Jadranka Kosor.

The HDZ has ruled since Croatia broke away from Yugoslavia in 1991,
with the exception of a three-year hiatus in 2000-3, and in the past two
years has been exposed as the wellspring of state-organised corruption
and embezzlement on a massive scale. Its former leader and prime minister,
Ivo Sanader, is on trial on two sets of corruption charges after being
arrested while trying to flee the country. Another former deputy prime
minister and other senior party figures have also been charged, while
the party itself is at the centre of a slush-fund scandal.

The new centre-left government, including liberals and regionalists, will
have to contend with a disastrous economic legacy, with national debt
soaring to Italian or Belgian levels, unemployment nudging 20% and a
depressed national mood.

Later this week, Croatia will sign its EU membership treaty, before joining
in July 2013. The hope is that EU membership will trigger an influx of
funds and foreign investment. Croatia is likely to be the last country to
join the EU for at least a decade.
Ian Traynor
guardian.co.uk, Sunday 4 December 2011 18.28 GMT
Article history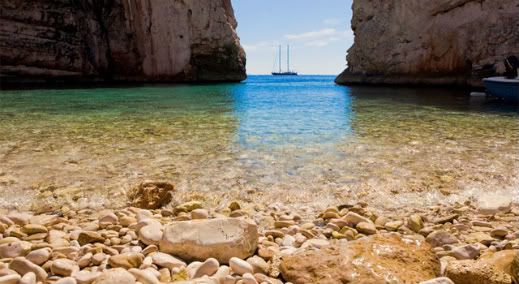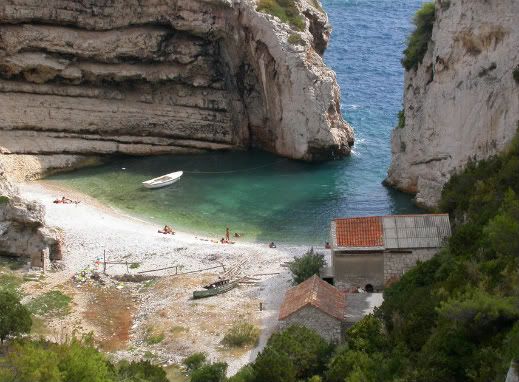 Stiniva cove, Vis island, Croatia
.